Nonprofit harvests solar energy to serve Houston's food deserts
Sep 29, 2023, 12:15 pm
Sustainable nonprofit Urban Harvest has upgraded to use solar energy. Photo courtesy Andrew Hemingway/Urban Harvest
Houston nonprofit Urban Harvest is plugging into the power of solar energy.
The nonprofit's Mobile Market program has added a custom-designed, solar-equipped trailer to its fleet. The market provides fresh locally sourced food to "food deserts."
"By harnessing the sun's energy, the trailer can become a self-sustaining unit, eliminating reliance on conventional power sources for a substantial period of time," says Urban Harvest.
The trailer consists of a Ford F150 hybrid truck with a custom-designed trailer that's equipped with solar power capabilities. The unit enables Urban Harvest to store and transport nearly $5,000 worth of fresh produce and goods to support the Mobile Market program, which serves an average of 1,200 customers each month.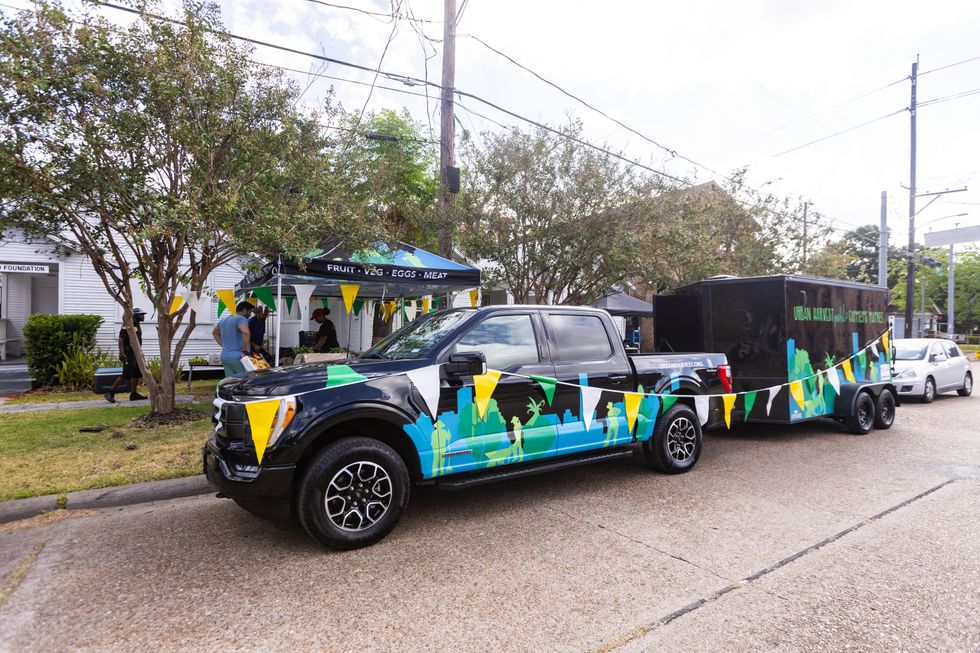 Urban Harvest is now using solar energy to bring its produce around Houston. Photo courtesy Andrew Hemingway/Urban Harvest
The trailer's three refrigerators and one deep freezer are entirely powered by solar energy.
"During Hurricane Harvey, we witnessed the devastating impact of disrupted food supply chains, leaving farmers unable to transport and store their produce. We knew there had to be a better way," says George Hixson, Mobile Market manager for Urban Harvest. "Our solar-powered trailer and F150 hybrid is a game-changer, addressing not only efficiency but also disaster relief and community engagement."
Urban Harvest foresees expanding the solar concept.
"There was little to no access to local produce during Hurricane Harvey due to crops being flooded out during the storm. This vehicle will allow us to assist farmers in these types of situations getting crops out of the field and into neighborhoods where there is no fresh produce," says Janna Roberson, executive director of Urban Harvest.
Urban Harvest provides farmers markets, community garden programming, gardening classes, and youth education.