Report: Houston's energy transition economy sees momentum, including $6.1B in financing in 2022
Aug 7, 2023, 12:02 pm
According to the facts, Houston's energy transition is moving in the right direction. Photo via Getty Images
In Houston, the energy transition movement is in full effect — at least, according to the facts and figures from a recently released report.
The Greater Houston Partnership released its 2023 Houston Facts report, which analyzes the business community across sectors. The report highlights the fact that last year Houston's energy transition brought in $6.1 billion in financing from private market investments, which represents a 61.9 percent increase compared to 2021.
"Over the last five years, Houston has seen constant growth in annual energy transition investments, with a notable surge observed from 2020 onwards," reads the report.
Corporate and strategic merger and acquisition investments are what dominated the five deal types, according to the report, representing 68.8 percent of the total investment in 2022. Additionally, private equity accounted for 19.3 percent of all deals, with venture capital comprising 9.5 percent.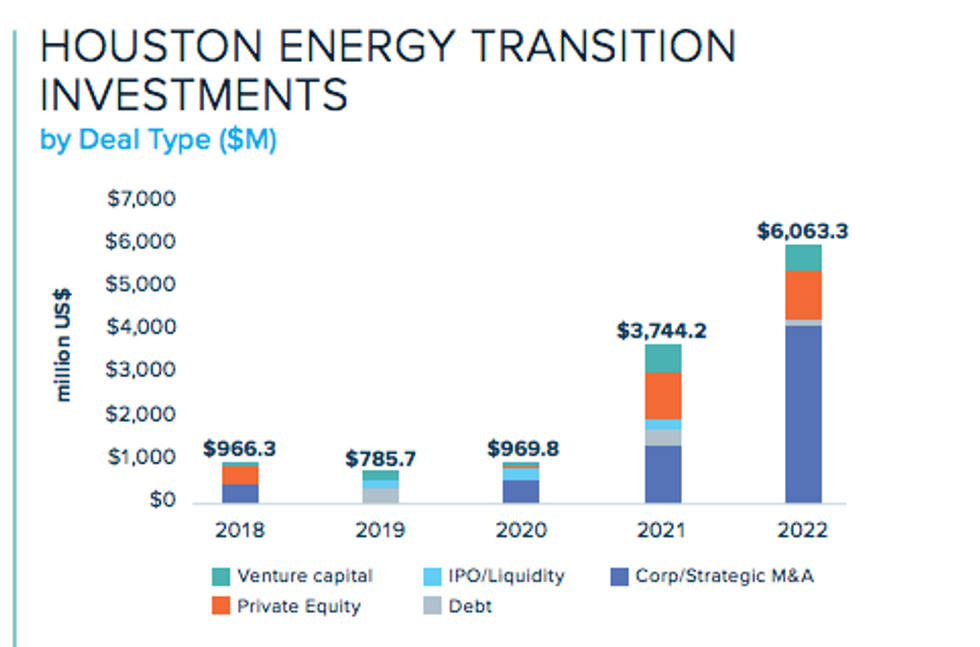 Source: GHP analysis of data from the U.S. Environmental Protection Agency, Greenhouse Gas Reporting Program (GHGRP)
According to Houston Facts, there are 550 Houston-based energy transition companies working in battery/energy storage, biofuels, carbon capture, use, and storage, circular economy, and other energy value chains.
The report also looked at clean energy job growth, which increased from 66,047 professionals in the Houston metro area in 2021 to projected increase to 71,305 jobs in 2022. The fastest growing type of clean energy job is within energy efficiency, a section that accounts for 68.1 percent of total clean energy employment last year, which increased 28.2 percent from 2021. Additionally, clean vehicle employment also saw a 14.7 percent increase while job counts in grid and storage and clean fuel applications declined notably in 2022, per the report.
Compared nationally, personal finance website SmartAsset recently ranked the Houston metro area as the fifth best place in the U.S. for green jobs, which pay an average of 21 percent more than other jobs. The SmartAsset study found that 2.23 percent of workers in the Houston area hold down jobs classified as "green."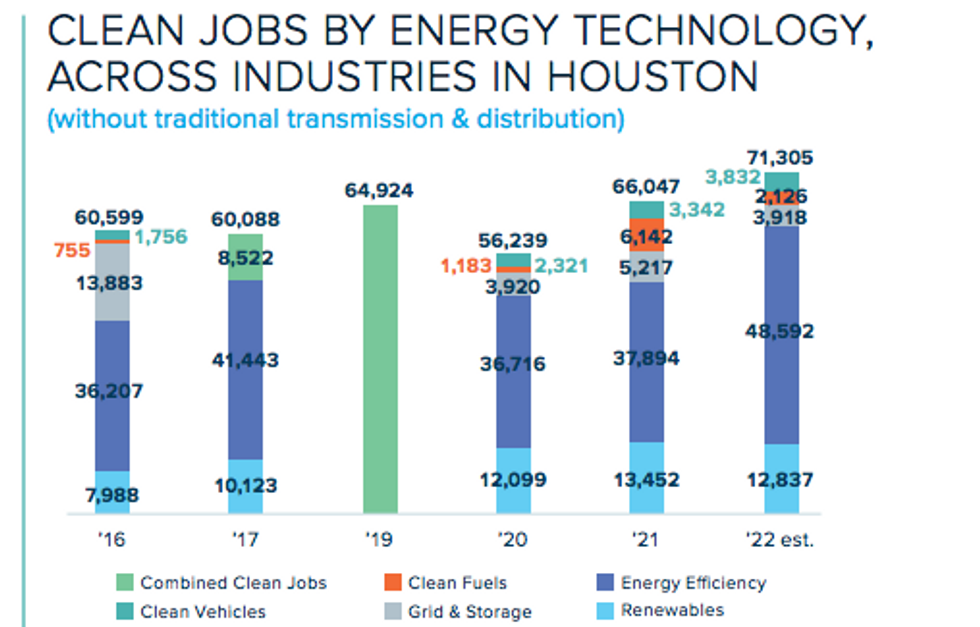 Source: GHP analysis and estimates of data from the U.S. Energy and Employment Report (USEER) and The Energy Futures Initiative (EFI), the National Association of State Energy Officials (NASEO), BW Research Partnership (BWRP) and E2 (Environmental Entrepreneurs)
The report also analyzed Houston's progress when it comes to emissions. Here are some of the Houston Facts on emission data from the U.S. Environment Protection Agency and the Greenhouse Gas Reporting Program:
Houston's power plant sector was as the largest greenhouse gas emitter with 43.2 percent of the region's total industrial emissions, and the sector has had an overall increasing trend over the past few years.
With 27.5 percent of industrial emissions, the chemicals sector came in No. 2, but the sector peaked in 2018, slightly declined in 2019, and have remained relatively constant through 2021.
Refineries ranked third, with for 21.2 percent of emissions, and have remained stable without notable increase over the past few years.
Petroleum and natural gas sector emissions have consistently increased since 2012, except for 2017. That year, Houston's overall emission rate reached its lowest point in the past decade at 225.1 mtCO2e.
Currently, Houston's emission rate is slightly below the highest point of the past ten years, which was 243.2 mtCO2e recorded in 2012.
Houston Facts, as well as other reports and resources, is available on
GHP's website
.