Japanese company opts into joint initiative for green hydrogen, ammonia project in South Texas
Oct 16, 2023, 1:32 pm
INPEX Corp. and Green Hydrogen International have agreed to a Joint Study Agreement to advance a South Texas hydrogen production facility called "Hydrogen City." Photo via Getty Images
An oil and gas exploration and production company has signed on to collaborate on a green hydrogen project in Texas to keep up with growing global market demand.
INPEX Corp. and Green Hydrogen International have agreed to a Joint Study Agreement to advance a South Texas hydrogen production facility called "Hydrogen City." The project's first phase will produce 280,000 tons per year of green hydrogen and 1 million tons per year of green ammonia. Construction is slated to begin in 2026 with commercial operation expected in 2029.
INPEX's "unparalleled expertise in large energy project development combined with a world-class marketing organization will provide enormous advantages to the Hydrogen City project and our goal of producing the world's lowest-cost green hydrogen by 2029," Brian Maxwell, CEO of GHI, says in a news release.
The partnership brings together both entities' expertise, with INPEX's experience developing large scale energy projects and marketing LNG to international customers. Meanwhile, GHI uses salt cavern storage and behind-the-meter renewable power to produce low-cost green hydrogen.
"I am excited to announce this green hydrogen project in Texas, which exemplifies our unwavering commitment to environmental leadership and innovation," INPEX Representative Director, President, and CEO Takayuki Ueda says in the release. "INPEX's dedication to a brighter, greener future remains steadfast, and this endeavor in Texas marks a pivotal step in our vision for a more sustainable tomorrow."
INPEX is also a part of a large-scale, low-carbon ammonia production and export project on the Houston Ship Channel that was anounced ealier this month.
Hydrogen City, located in South Texas atop the Peidras Pintas Salt Dome, was originally announced in March 2022. There will be a 75 mile pipeline from Hydrogen City to Corpus Christi, supplying a 1 Million Tonne Per Annum (MTPA) ammonia production facility and local off-takers.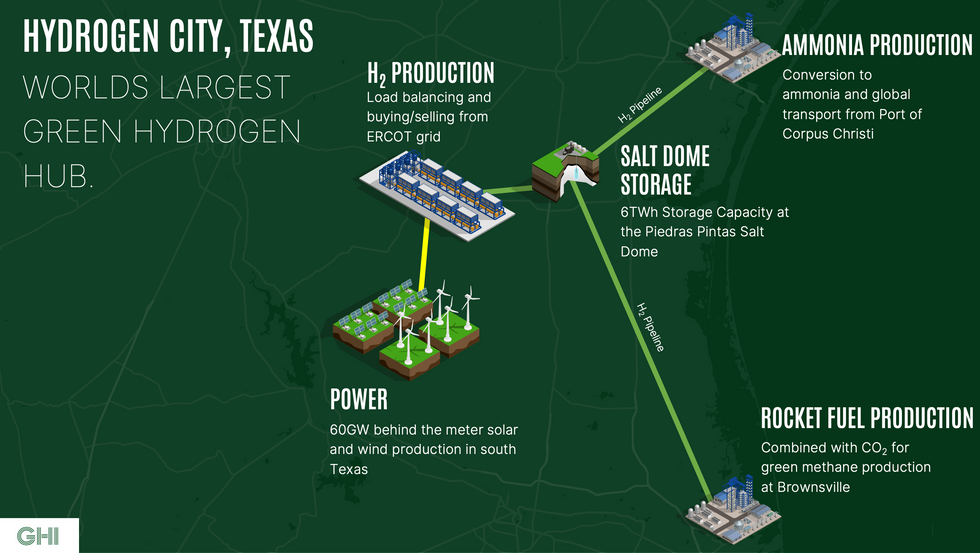 Image via ghi-corp.com