Houston nonprofit flips switch on solar panel project thanks to sustainability grant
Jun 30, 2023, 7:21 am
A Houston nonprofit's farm will soon be completely off-grid, running its entire operation on sustainable resources. Photo courtesy of Hope Farms
A Houston-area farm is one step closer to operating completely off-grid thanks to new solar panels installed with funding provided by a grant.
In a step towards a greener future, Hope Farms, a 7-acre farm operated by a Houston nonprofit organization, Recipe for Success Foundation, unveiled 18 new solar panels on Tuesday. This significant move is part of a collective effort to completely transition the farm to solar power, demonstrating its commitment to sustainability.
"The industry (solar power) itself is intimidating to people," Gracie Cavner, founder and CEO of Hope Farms and Recipe for Success, tells EnergyCapital. "Part of our work is to inspire people to replicate what we're doing. We want to show that things aren't as hard as you think they are."
The nonprofit organization is recognized in Houston for its work in addressing childhood obesity, with a long held mission of demystifying the common misconceptions around healthy eating. It is now tackling another challenge: dispelling the myth that solar power implementation is difficult. Hope Farms' latest initiative will not only further its energy independence, it will also show that adopting renewable energy, similar to embracing healthy food choices, is a feasible option.
The 18 solar panels will power the farm's composting toilet facility and all of the electricity used in its barn, which acts as its market stand and kitchen. Its next green phase is fast approaching and will implement solar panels on top of its flower studio, where the farm's internet and security systems reside. Its final phase will install a water well pump.
"We really did a lot of direct learning," Cavner said. "We worked directly with solar engineers, not somebody with a company that benefited from us making one decision or another. I feel like more people would have solar if they realized they could do that."
This is not the first green step Hope Farms has taken thanks to a Green Mountain Energy Sun Club grant, and certainly not the last. Last year, the farm cut the ribbons to its rainwater capture system that now saves roughly 95,000 gallons of water per year by capitalizing on the city's abundant rainfall.
Since the farms beginning in 2016, it has relied on solar, even when it was only fields lit by a few lights. Soon, Hope Farms will be completely off-grid, running its entire operation on sustainable resources.
"With this expansion, I feel like it's going to be taking the rock out of the middle of the river," Cavner said. "It's going to open up this train and make it easier for anybody to jump in and do it. The first step is kicking the door open and making more people want to pursue it."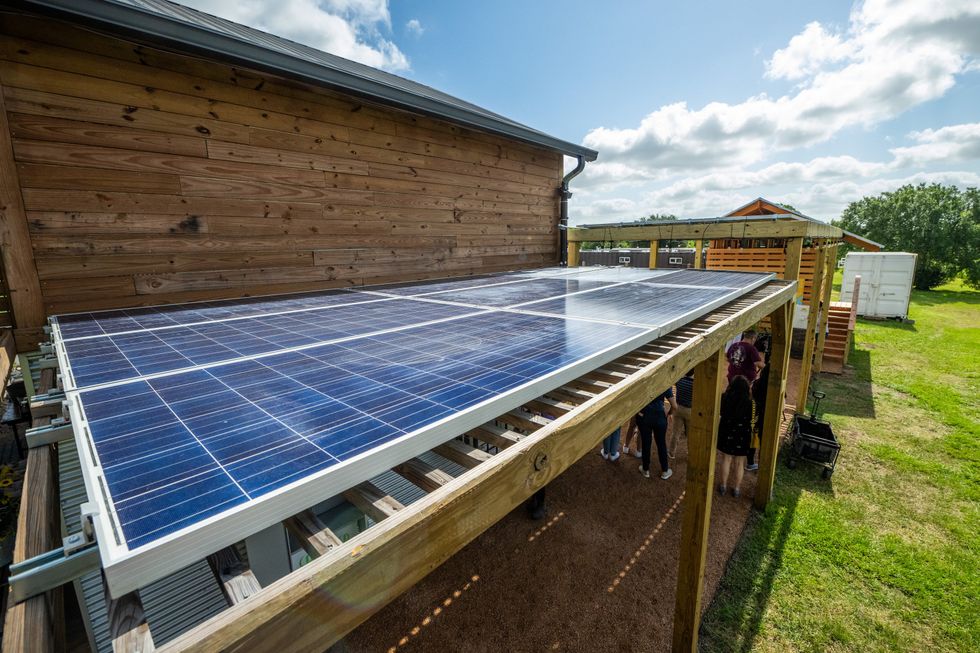 Hope Farms installed 18 solar panels and already has plans to add more. Photo courtesy of Hope Farms