California energy services company expands to Houston area
Jul 5, 2023, 10:03 am
Upwing Energy has expanded and opened an office in Katy. Photo via upwingenergy.com
Southern California-based startup Upwing Energy is establishing an outpost in Katy.
Upwing says it already has four full-time employees assigned to its Katy location, which features 1,000 square feet of office space and 2,500 square feet of warehouse space. The company's new digs are at Nelson Way Business Park, near Katy Freeway and Pin Oak Road.
Herman Artinian, president and CEO of Upwing, says the company plans to employ 10 people in Katy by the end of this year. Altogether, Upwing employs 50 people.
"As the Energy Capital of the World, Houston provides an ideal location for our new facilities, positioning our personnel and materials closer to wells we're servicing and at the center for innovation in the industry," Artinian tells EnergyCapital.
The company says the Katy location provides a base for field operations personnel and proximity to natural gas wells owned by current and potential customers.
"Natural gas holds the long-term promise of sustaining our energy ecosystem as demand continues to climb," Artinian says in a June 29 news release. "The technology is here, and we're excited to continue scaling it and making it more accessible to the industry."
Upwing, based in Cerritos, California, offers services designed to boost natural gas production and recovery. It was founded in 2015 as an offshoot of Calnetix Technologies. Calnetix makes high-speed, energy-efficient industrial electric drive and generation systems.
In November, Upwing closed $25 million in series C funding. Artinian says the funding has enabled his company to expand its workforce and testing capabilities.
"Overall, we're scaling incredibly quickly as we continue to see growing demand for solutions to more effectively and responsibly sourced natural gas," he says.
Upwing says its subsurface compression technology doubles incremental production from existing natural gas wells while reducing production costs by 70 percent and requiring no new drilling. Thanks to this technology, Upwing customers can expect additional monthly income ranging from $200,000 to $2.6 million per well.
In 2020, Upwing won the Offshore Technology Conference's Spotlight on New Technology Award for its subsurface compressor.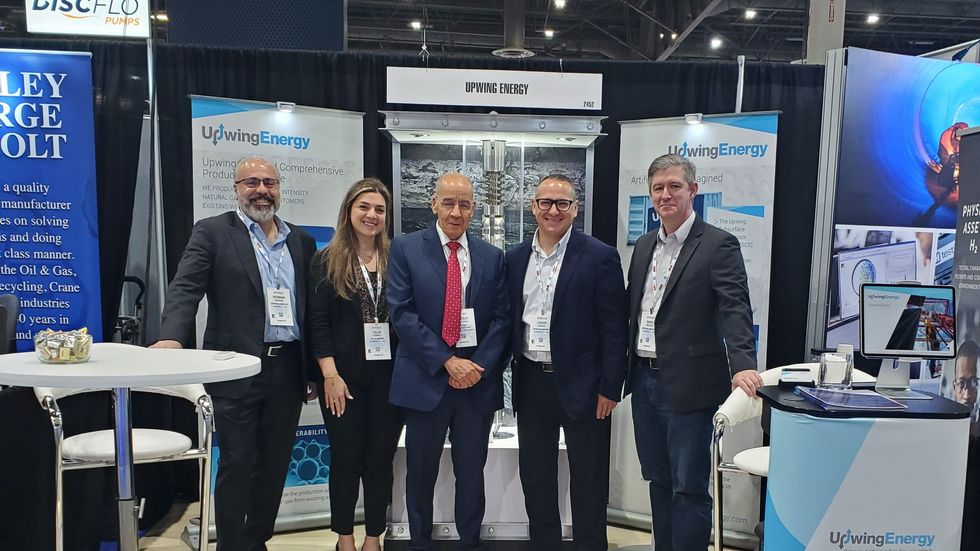 The Upwing team has visited the energy capital of the world on several occasions before officially expanding here. Photo via upwingenergy.com