Boston-based tech company grows Houston team to deliver robotics to energy industry
May 12, 2023, 11:10 am
Square Robot's Houston office has the ability to showcase the technology to its potential customers. Photo courtesy of Square Robot
The robots are coming. Although the rise of Chat GPT has frightened plenty of professionals, we're not on the precipice of the singularity just yet. And some of Houston's coolest robots are contained in above-ground tanks, simply doing jobs that are too expensive and difficult for humans. The mechanical helpers in question come courtesy of Square Robot.
Square Robot co-founder and chief technology officer Jerome Vaganay started the company in 2016 in Boston. The company opened its Houston office in August of 2019.
"A lot of our partners and client base is out of here," says director of operations, Matt Crist.
Karishma Prasad, director of technical operations, who joined the team in Houston earlier this year, adds "It's a great centralized place for us. Houston is a great hub both nationally and internationally. There is so much energy transition innovation happening here."
Square Robot is indeed a robotics company, but it trades in a very specific type of robot. The SR-1 is an innovative tank inspector.
"Since the '60s there's been a traditional way of going into a tank. People would go inside and clean it with a variety of products," Crist explains. "Once it was clean, they would come in and inspect it repair it and that could take months."
In fact, it could often cause a 15 or 16-week outage, he says.
Square Robot's brainstorm was to take the human element out of the process. In other words, robots can do the job more safely, efficiently and quickly than a human ever could by collecting 18,000 data points per square foot, while allowing the product — most often diesel — to stay in the tank.
Square Robot saves those vast weeks of time, but perhaps even more importantly, says Prasad, "We're avoiding emissions being released into the atmosphere."
With its key location in Houston, Square Robot has worked with most of the major names in the energy world, including ExxonMobil, Chevron, BP, and Crist's former employer, Phillips 66.
The latest robot is the SR-3, which is currently being tested in Houston. Curious webwatchers can see its progress on Square Robot's website. Unlike the flagship SR-1, the new robot boasts a side launcher that allows it to be completely immersed in a tank before being launched.
But perhaps the most exciting thing about Square Robot's 15-human Houston office is its test tank. There, potential partners can see exactly what the company's ingenious creation can do. Square Robot will participate in ILTA, the International Operating Conference & Trade Show, which takes place from May 21-24. On the 24th, the company will host an open house from noon to 3 p.m. to allow potential users to see the SR-3 in action in the 42-foot-long test tank.
Square Robot will complete its hundredth tank inspection in May. It is also growing beyond the oil and gas world to include work with the power industry and was recently selected as a finalist in the Incubatenergy Lab Start Up program. This is one robot that we will happily allow to take over formerly all-too-human responsibilities.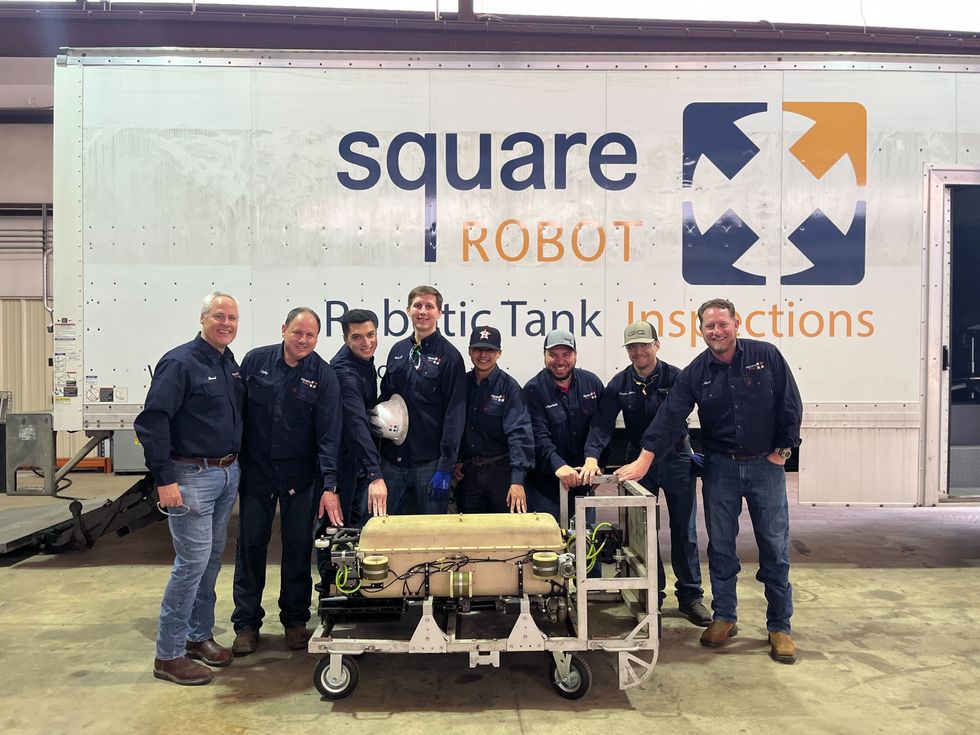 Square Robot has a team of 15 in Houston. Photo courtesy of Square Robot
---
This article originally ran on InnovationMap.