NRG Park announces historic complex-wide sustainability project
Jul 25, 2023, 12:45 pm
The improvements are expected to reduce emissions by 241,000 metric tons a year and save over $54 million by 2043. Photo courtesy of NRG
A Houston organization has announced a major energy efficiency and sustainability project that, in 20 years, will end up paying for itself with the savings alone.
The project is a collaboration between Wisconsin-based Johnson Controls (NYSE: JCI), Harris County Sports & Convention Corporation (HCSCC), NRG Park, and Harris County. The 20-year savings of the improvements are estimated to generate more than $54 million.
"We remain committed to maintaining NRG Park's distinct position as a part of the fabric of our community and a landmark for visitors globally," Ryan Walsh, CEO and executive director of HCSCC and NRG Park, says in a news release. "These enhancements allow us to maintain our reputation for excellence and continue to deliver the best fan experiences, while exploring innovative and financially responsible approaches to sustainability."
The project, according to the news release, is expected to reduce carbon dioxide emissions by over 241,000 metric tons a year. The plan includes: upgrades to HVAC equipment, building automation systems, water conservation, life safety systems and lighting improvements, and the high-efficiency chiller system.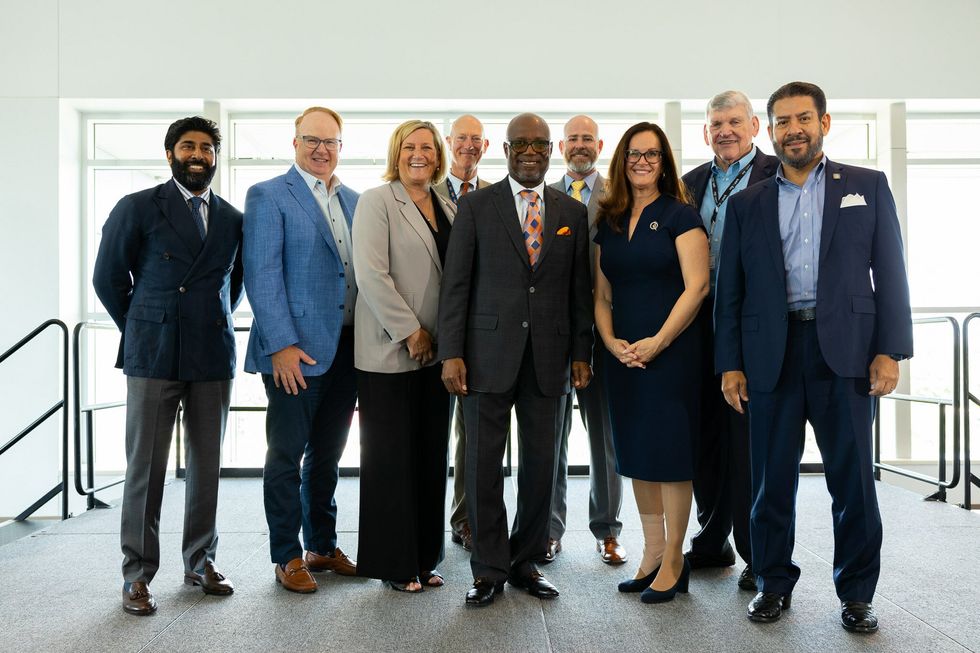 The teams from Johnson Controls and NRG celebrated the partnership earlier this summer. Photo courtesy of Johnson Controls
Additionally, the park will integrate a system from Johnson Controls — OpenBlue Central Utility Plant — and the company will continue to measure and track results through an ongoing service agreement.
"Our partnership with Harris County and HCSCC's team to guide the enhancement initiative at NRG Park is paving the way for more sustainable practices across the sports and entertainment sector," Julie Brandt, president of Building Solutions North America at Johnson Controls, says in a statement. "We look forward to seeing how this project will inspire other industry leaders and drive smart savings and significant emissions reduction, not only in Harris County but on a national scale."
NRG Park, comprised of NRG Center, NRG Stadium and NRG Arena, is home to the annual 20-day Houston Livestock Show and Rodeo and the NFL Houston Texans. The 350-acre complex will also host the College Football Playoff Championship, the FIFA World Cup, and more than 500 other events this year.
"NRG Park is a premier destination that welcomes more than 5.5 million people annually," says Rodney Ellis, Harris County Commissioner for Precinct 1, in the release. "These enhancements will create a more enjoyable and resilient environment for people traveling from near and far to attend the multitude of events hosted there."
It's not the first time NRG has invested in energy efficiency. In 2014, NRG Stadium became the first professional football stadium in the country with LED lights, Elizabeth Killinger, executive vice president of NRG Retail, said at the time. NRG also became the first professional sports stadium in Texas to install solar panels. At the time, the organization also announced electric vehicle charging stations.
Earlier this year, the Houston Texans announced a sustainability project of their own. In partnership with 1PointFive, the Texans' Preferred Carbon Removal Partner, the team launched the Touchdown for Trees program the Touchdown for Trees program to recapture carbon emissions. For every touchdown scored by the Texans in the 2022, 2023, and 2024 seasons, the team pledges to plant 1.5 trees in the greater Houston area.