Houston O&G services company lays out 2022 wins in new report
Jun 28, 2023, 7:41 am
Houston-based oil and gas engineering and construction services provider McDermott outlines company's progress toward sustainability with new report. Image via mcdermott-investors.com
People. Planet. Progress. These are the first three words on the homepage for the a new report on sustainability from a Houston company.
Published this month, the 2022 Sustainability Report from McDermott — a global leader in engineering, procurement, and construction solutions for the energy industry — showcases the organization's dedication to developing sustainable solutions and innovative technologies.
"As our customers set ESG targets and work to meet and exceed their stakeholder expectations, they increasingly rely on McDermott for innovative methods and low-carbon solutions leveraging our more than 100 years of complex project experience," says Michael McKelvy, McDermott's president and CEO, in the news release. "With our customers, we are advancing global decarbonization through low-emissions options across our engineering, procurement and construction operations."
In the third annual report of its kind, McDermott highlights key climate and sustainability accomplishments achieved in 2022 in each of the three aforementioned focus areas.
People
Joining the Massachusetts Institute of Technology Energy Initiative to further ingrain McDermott with academic institutions collaborating to achieve net-zero targets
Launch of the RISE Female Development Program as part of the commitment to diversity and inclusion, and specifically, gender equality, across the organization
Planet
Voluntary, inaugural submission of ESG metrics to the Carbon Disclosure Project platform
Introduction of a new Carbon Footprint Dashboard that established a baseline against which 2023 KPIs and targets will be assessed to measure project-related emissions
62 percent increase in project water reuse compared to 2020
Elimination of the need for plastic water bottles on all maritime fleet vessels with the introduction of onboard filtration systems
Progress
Awarding of Borwin6, the largest renewables energy project for McDermott to-date
Application of modular solution delivery practiced for over 50 years to construct and deliver Green and Blue hydrogen facilities
Scaling up technology for liquefied hydrogen spheres and development of fully integrated renewable and low-carbon hydrogen demonstration and framework in Texas
Completion of Phase 1 rollout of a vehicle utilization AI platform that measures emissions and provides fleet management teams with actionable insights
"McDermott is committed to sustainable, positive improvement in the communities where we operate, for our customers, and for our employees and the world," states Rachel Clingman, McDermott's executive vice president, sustainability, and governance in the announcement. "We matured our strategy and focus in 2022. We are aligned and working hand-in-hand with customers and stakeholders on specific plans and goals."
The 74-page report offers additional details on these initiatives, as well as commentary on the task force on climate-related financial disclosures compliance and environmental performance data for the year ended on December 31, 2022.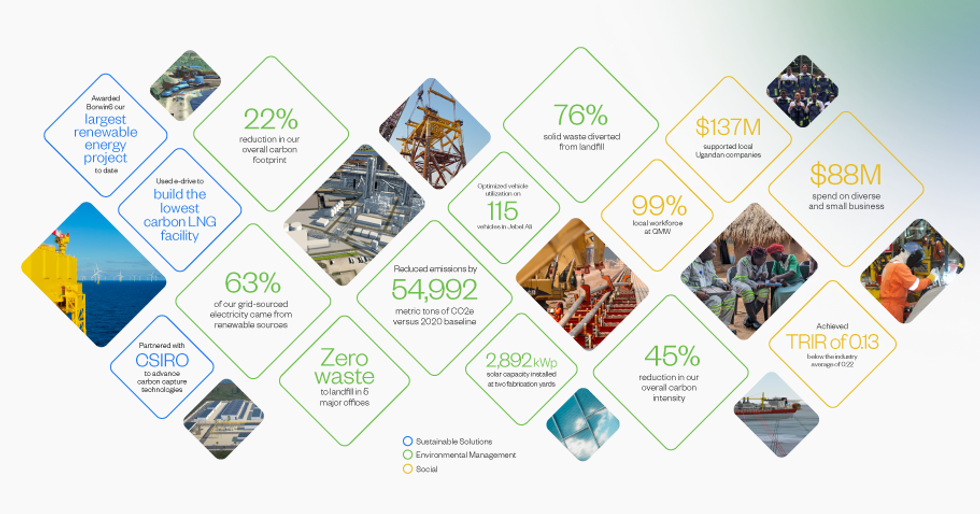 McDermott outlined its sustainability wins from 2022. Image via mcdermott-investors.com