University of Houston plans to build new central campus innovation hub
May 24, 2023, 10:43 am
The University of Houston will construct a new hub for innovation on its main campus. The building is planned to be adjacent to the M.D. Anderson Library. Photo via uh.edu
Over a year ago, the University of Houston got the greenlight from the state of Texas to create a central hub for innovation on campus, Ramanan Krishnamoorti, vice president of energy and innovation at the University of Houston, tells InnovationMap.
"We asked the state two years ago for appropriations to create an innovation hub at the University of Houston," Krishnamoorti says on this week's episode of the Houston Innovators Podcast. "We are now in the process of creating an innovation hub central to the campus at the University of Houston."
While the project is still in its early stages, the university has revealed some details on the building, which is slated to open in 2025 next to the M.D. Anderson Library on UH's main campus. It will be around 70,000 square feet and will house a makerspace, the Cyvia and Melvyn Wolff Center for Entrepreneurship, the Energy Transition Institute, innovation programs, and Presidential Frontier Faculty labs and offices.
"This would be a space that would look at innovation across all areas — arts, social sciences, STEM, business," Krishnamoorti says. "We're going to build this innovation hub as a central place of gathering for everything innovation on campus."
One of the aspects of the hub Krishnamoorti says he's excited about is the makerspace.
"Students can come in there and make, create, and visualize their dreams," Krishnamoorti says, explaining that this will be accessible to all students. "This could be everything from clever art to architectural designs to a widget for a STEM-related target they are working on."
In addition to creating lab space for further research and innovation, the hub will be a convening spot — both for the university's campus as well as the greater Houston business community. Krishnamoorti says a goal of this project is to be able to bring in subject matter experts from industry and have them spend time with on campus with students.
"There's all this talent that's out there — but we don't give them a place to come in and engage the future generations," Krishnamoorti says. "This is an effort to provide a venue to create those unexpected, unanticipated collisions, create a talent pipeline, engage with experts, and build activities that will very quickly de-bottleneck some of the biggest challenges we have in the innovation space."
Currently, UH is calling for support from perspective and existing donors for the project.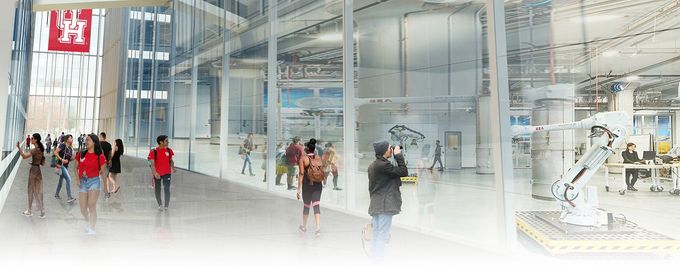 The UH Innovation Hub is in its early stages. Photo via uh.edu
This article originally ran on Innovation Map.