Houston sustainability startup increases Texas impact, diverts 3.5M lbs of landfill waste
Jul 20, 2023, 9:52 am
By opting into composting, Moonshot customers are avoiding contributing to landfill methane emissions. Photo via Moonshot Compost/Facebook
Houston-based Moonshot Compost is marking its three-year anniversary this month, demonstrating a successful execution of a sustainable waste management model.
Chris Wood and Joe Villa started the company in July 2020, collecting and measuring food waste in their personal vehicles. Today, Moonshot operates with a team of drivers utilizing its data platform to quantify the environmental benefits of composting.
"People like to compost with us," Wood said. "When we first started, I don't think we ever thought we would get to so much weight so quickly. We've diverted over 3.5 million pounds of food waste since we launched, and our rate of collection is about 250,000 pounds a month now."
Moonshot ensures every collection is weighed to calculate its precise impact. Its proprietary system uses QR codes, allowing users to understand both their individual and collective contribution to the composting effort.
Despite starting in the midst of the COVID-19 pandemic, the service has solidly grown. Currently, Moonshot serves 65 commercial and over 600 residential subscribers across Houston, Austin, Dallas, and Waco.
One of Moonshots significant achievements is its Diversion Dashboard, which presents the climate equivalencies of the diverted food waste, highlighting how composting contributes to the reduction of greenhouse gases.
"By composting, you're avoiding landfill methane emissions, which constitute 10 percent of global greenhouse emissions," Wood said.
Moonshot offers subscription programs for both residential and commercial clients. The residential subscription includes a drop-off option for $10 per month or an at-home pick-up service for $29 per month. Each pick-up includes a clean bin exchange. For commercial clients, the base fee is $110 per month, with weekly pick-ups and bin exchanges.
The company's next significant milestone, Wood said, is to divert 5 million pounds of food waste in Houston. As of now, Moonshot expects to reach its 5 million pound goal by mid-2024.
"We think that Houston is sending 5 million pounds of food waste to the landfill every day," Wood said. "Once we've diverted 5 million pounds in Houston, that'll be the first time that we've diverted a day's worth of food waste in Houston."
As part of Moonshots most recent compost result update, Moonshot subscribers based in Houston have diverted 3,444,704 pounds of waste from landfills and saved 2,328,366 pounds of carbon dioxide. Visit here for more information on its impact across Austin, Dallas and Houston.
Wood emphasized the importance of changing perceptions on composting: "It's not disgusting. You already generate food waste at home and work. Composting makes your trash cleaner."
With this mission, Moonshot Compost continues to transform perceptions and practices around waste management and sustainability.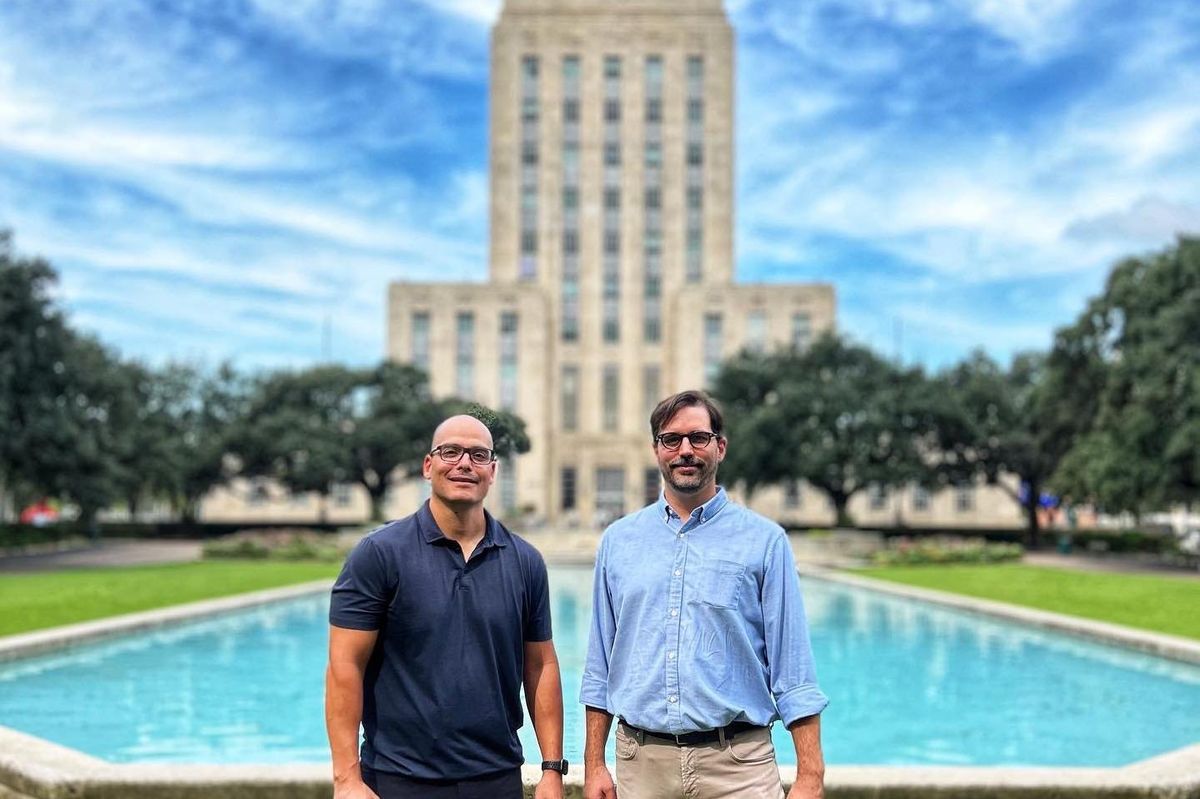 Chris Wood and Joe Villa started the company in July 2020. Photo via Moonshot Compost/Facebook