How this Houston hospital is leading sustainable health care
Sep 7, 2023, 12:45 pm
Houston Methodist has several ongoing and future initiatives dedicated to reducing the hospital system's carbon footprint. Photo via HoustonMethodist.org
The United States health care sector contributes around 8.5 percent of greenhouse gas emissions, and one Houston hospital is committed to doing its part in reducing the industry's carbon footprint.
Houston Methodist, which recently opened a new tech hub in the Ion in midtown, has put in place several initiatives that reflect a more sustainable future for health care. The organization, which has seven hospitals in the Houston area, revealed some of these ongoing and planned projects at a recent event.
"Houston Methodist is always looking ahead on ways — not only of how we are taking care of patients — but what are we doing to create this environment and making the right efforts for sustainability, which we should all be doing," Michelle Stansbury, vice president of innovation and IT applications at Houston Methodist, says on this week's episode of the Houston Innovators Podcast. "We have to protect this environment that we have or it may not be the same for our children going forward."
The hospital system is currently in the design phase for installing solar panels on the Josie Roberts Administration Building in the Texas Medical Center. This project, in partnership with Houston Methodist's Energy and Facilities workgroup, will be the first step toward renewable energy consumption for the hospital.

Houston Methodist has already rolled out food composting initiatives at its locations in Sugar Land, The Woodlands, and Willowbrook locations — with plans for additional campuses to follow. According to a presentation from Jason Fischer, director of the Office of Sustainability at Methodist, the hospital system has already diverted nearly 100,000 lbs. of food waste from landfills.
Preventing waste recycling or reusing items is another focus of Houston Methodist, Stansbury says, from creating a workflow that enables reusing items that are able to be sanitized rather than thrown away to sustainably getting rid of expired materials. The U.S. has rules about the shelf lives of health care products, but other countries don't have as strict of mandates.
"We're sending (supplies) to other countries that can still use these products," Stansbury explains. "Knowing that we're helping to care for other individuals, to me I think it's very valuable. Other countries don't have the resources that the United States does."
Another notable initiative is incorporating greenspace for patients to enjoy. Houston Methodist is currently in construction on a 26-story hospital tower in the Texas Medical Center that will feature the Centennial Rooftop Garden on the 14th floor.
The Houston Methodist's sustainability team has several other initiatives both ongoing and in the works. More information is available on the hospital's website.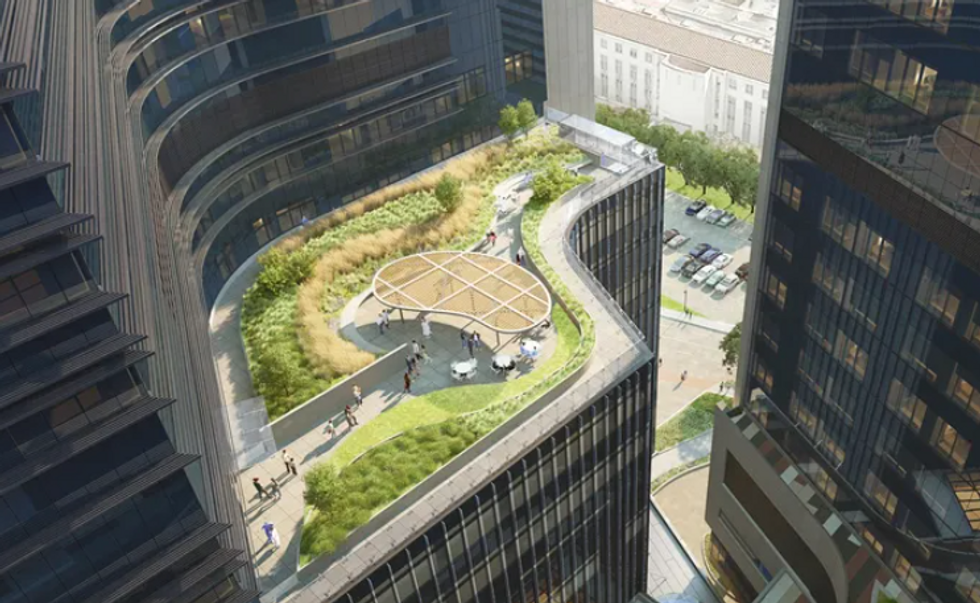 Centennial Tower's 14th floor will feature an outdoor rooftop garden. Rendering courtesy of Houston Methodist