Houston-based, energy-focused digital media company launches networking app
Sep 6, 2023, 11:06 am
This Houston-based media company launched a networking platform to help solve the energy crisis. Photo via Headway/Unsplash
A Houston-based media organization dedicated to covering the energy industry has officially launched the beta program of their networking app.
After producing zanily named energy podcasts like "Big Digital Energy" and "What the Funk," Digital WIldcatters is trying to bridge the hiring gap in the energy industry. By providing a platform for individuals to get their questions answered by experts and a space for companies seeking qualified talent, Collide is structured to ignite the next generation of energy innovators. Collide is currently available for users in both the Apple App Store and Google Play Store.
Collin McLelland, co-founder and CEO of Digital Wildcatters, says he aims to expand their professional community through this networking platform. Rather than being a transition away from Digital Wildcatters' roots as a digital media organization McLelland explains Collide is an integration of the community they have built through podcasts and events into an interactive platform.
"If you look at what we've done historically with Digital Wildcatters, we've built an extremely engaged community of energy professionals — it's a next generation community, very young forward thinking professionals that are working towards solving the world's energy crisis," McLelland shares.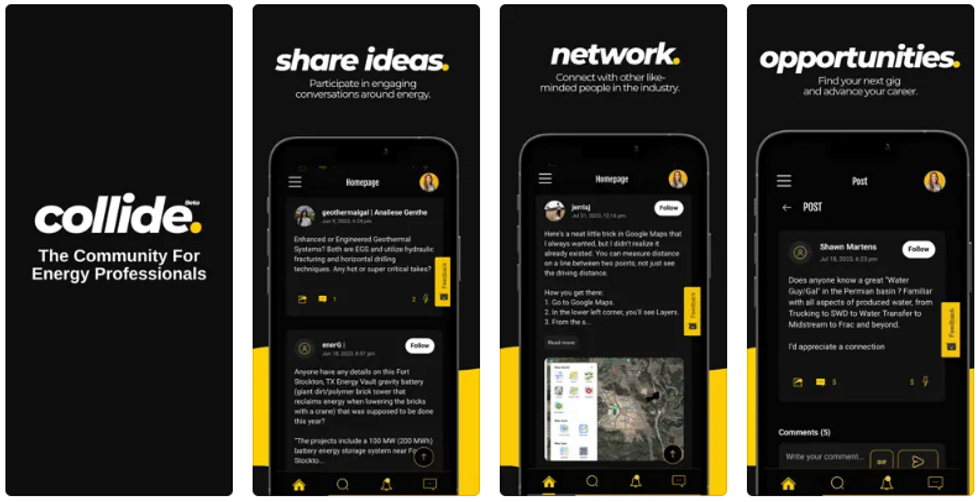 Screenshots via apps.apple.com
The roll out of Collide has been intentionally gradual, McLelland says because they want to shape the user experience based on feedback from ongoing focus groups. Currently they have about 1,000 users and are examining how they can make the app valuable to them before providing the platform to a wider audience.
McLelland says there are two major issues within the energy sector that Collide hopes to address — a lack of knowledge about energy verticals and difficulty recruiting talent. McLelland attributes the information gap to how expansive the energy sector is, incorporating beyond oil and gas, everything from renewables to lithium mining. Similarly, by zeroing in on the energy sector, McLelland believes Collide can draw upon the network of talent Digital Wildcatters has already cultivated to tackle recruiting issues.
"What we really see with our platform is being able to bring people together where if you want to find a piece of information, you need to find a subject matter expert, or if you want to find your next job, it happens on the Collide platform," McLelland says.
Unlike other hiring platforms, Collide offers users the opportunity to look for information about the energy sector by integrating all of Digital Wildcatters' podcasts and videos into a content search engine. This program is part of their DW Insight subscription product which also has a startup database with overviews of various companies, from their demos to a portal to contact them.
"We hope someday that we'll have this knowledge base that can be searched and queried to where if you want to find out any piece of information, you'll be able to find it on (DW Insight)," McLelland explains.
McLelland co-founded Digital Wildcatters with Jake Corley. The two started the Oil and Gas Startups podcast in 2019.