Nov. 16, 2023 08:12AM EST
Katie Mehnert reflects on the progress Houston has made within the energy transition and future of work following her experience ringing the bell at the New York Stock Exchange. Photo courtesy of ALLY
As I stood on the platform at the world's largest stock exchange to ring the closing bell, surrounded by 130 people from across the energy industry, I saw it clearly: how the private sector will play a major role in getting us to an era of net zero. The people who power the energy industry will do the hard work. We've already begun. And we're unafraid of the long journey ahead — something more than 40 of us exemplified that weekend by running a marathon.
The trip to New York City days ago was an exhilarating whirlwind. But it was also something much more: A chance to show the markets, the nation, and the world that Houston is leading the energy transition. (It didn't hurt that we popped up on Good Morning America.)
From the beginning, the idea behind this pair of events — ringing the bell at the New York Stock Exchange and running the TCS New York City Marathon — was aimed at sending crucial messages. That recognizing climate change and building solutions is an obligation and an opportunity. That the energy industry understands this. That investors have good reason to support climate tech, one of the most exciting and fastest growing sectors. And, last but not least, that people's perceptions of Houston as being all about oil and gas are simply wrong.
The dozens of us who gathered came from across the country and around the world, But by far, the largest contingent was from right here in Houston. Executives, engineers, entrepreneurs, and other innovators took part. People spearheading projects in every facet of energy, from wind to solar, carbon capture, and other methods of dramatically reducing carbon emissions. All as one team.
Those who traveled from "the energy capital" knew how important it was to highlight our Houston pride. As a new report from the Texas Climate Tech Collective points out, the biggest problem in the city's climate tech ecosystem is its image. "Outsider perceptions of Houston often draw on negative stereotypes," the report explains. "The number one disadvantage survey respondents chose – even more than access to VC capital – was Houston's anti-climate reputation outside the state."
It's a problem I've been trying to combat for years, including through op-eds in national and international media outlets. Fortunately, the idea is starting to get through. Just days ago, the Financial Times reported that Houston claimed the top spot in this year's FT-Nikkei Investing in America rankings by "moving beyond oil." Our city, the paper said, "has become a hub for green energy innovation by building on its hydrocarbon past."
Houston, and Texas a whole, should be immensely proud of this. But the energy industry has a long history of failing to tell its own stories. It's time to change that. In fact, the recommendations in the collective's report include "campaigning to improve Houston's reputation, improving promotion of Houston's energy transition initiatives and accomplishments, educating politicians and consumers, reversing anti-climate perception."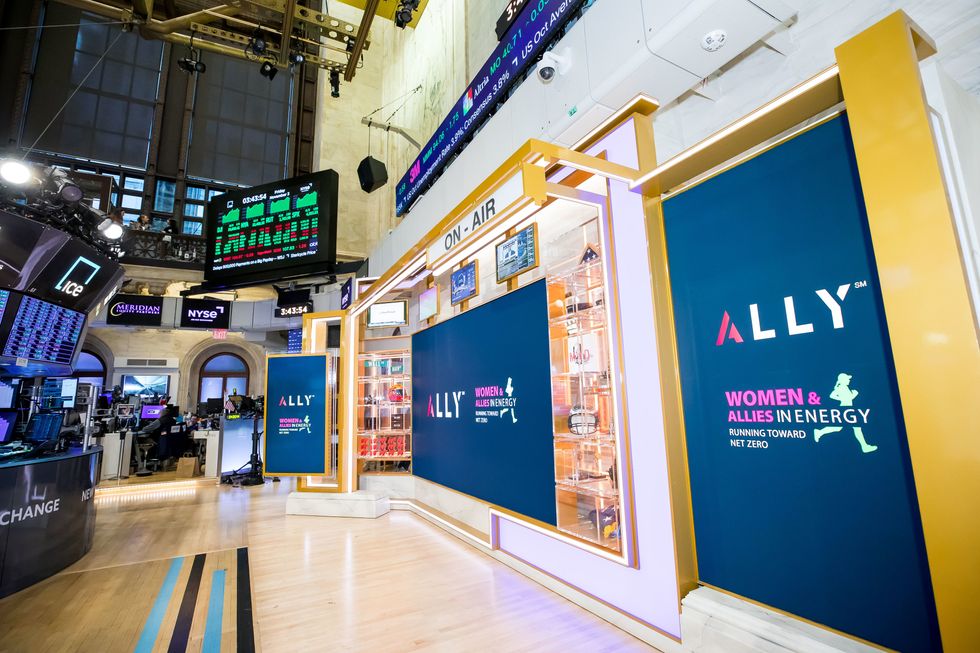 Photo courtesy of ALLY
Building bridges
All of the challenges we face, including the perception problem, will only be overcome if we work together. So the era of siloes must end. Climate change is an "all hands on deck" situation. This means companies large and small, as well as businesses focusing on all forms of energy, need to develop a "one-team" mentality.
We also need to step up our engagement with public sector entities. A great deal of public sector investment is being poured into renewable energy programs. Since I've served as an ambassador to the Department of Energy's Equity in Energy initiative and a member of the National Petroleum Council, I've met many people in government who are eager to cooperate with us to help ensure that the United States leads the way in the energy transition.
The need for building these kinds of bridges is another reason that many of the participants in our Women & Allies in Energy team saw the New York City marathon as such a strong metaphor. It's known for its bridges. And having run across all of them — and stopped for a quick selfie on the toughest one of all, the Queensboro Bridge — I'm reminded of their importance. I was happy to see that another recommendation in the collective's report speaks directly to this. It calls for, "Building bridges between public and private, energy corporates and startups, universities and startups, and startups and mentors; seeking partnerships with other ecosystems; improving resources for early stage startups."
We also need to build bridges among groups of people. More than ever, the industry needs diversity, equity and inclusion. (See my recent piece for Fast Company about why the C-Suite should double down, not shy away from, DEI.) We need to welcome people with all sorts of backgrounds, experiences, and perspectives. The greatest form of capital the energy sector has in building the future is not financial. It's human capital. And the greatest natural resource we have is not one form of energy. It's the people whose hard work, creativity, collaboration, and grit will get us to the finish line.
To help make all this happen, I'm calling for Houston to come together on climate change. Capitalizing on the annual Climate Week in New York City, and building on an event the City of Houston organized in 2021, let's bring all industries and all people together next fall to show that we recognize climate reality, and are ready to take action together.
The next generation
While I did have the chance to lead the delegation at the NYSE closing bell, I did not hold the gavel — at least, not by myself. Instead, I handed it to my 12-year-old daughter, Ally. (Yes, her name is a big part of the inspiration behind our company name, ALLY Energy.)
As leaders in energy, we have to keep our eyes firmly focused on the next generation. This means not only giving them a strong supply of energy and healthier conditions on the planet. It also means giving them future job opportunities.
It's up to us to build the pipeline for future talent. We need to improve STEAM (science, technology, engineering, arts and math) education. And we need to demonstrate to people who are currently underrepresented in our industry — such as women and members of minority groups — that they have a future in the world's most exciting industry.
We can do this. We can get out of our bubble, show our Houston pride to the world, and lead the way to "energy 2.0" — an era of plentiful energy supplies and net-zero emissions. After all, dozens of us have returned from New York City with a mission: capitalize on all that momentum, join together as a team, and run the race to net zero.
———
Katie Mehnert is founder and CEO of Ally Energy, a Houston-based talent and culture platform for the energy industry and 2023 Houston Innovation Award recipient.