Houston startup with revolutionary battery technology opens new labs
May 30, 2023, 10:56 am
TexPower's founders — Board Chairman Arumugam Manthiram, CTO Wangda Li, and CEO Evan Erickson, respectively — celebrated the opening of the company's new lab space. Photo courtesy of TexPower
A Houston startup founded off research out of a Texas university has cut the ribbon on its new lab space.
TexPower EV Technologies Inc. celebrated the opening of its 6,000-square-foot laboratory and three-ton-per-year pilot production line at a ribbon-cutting event last week. The Northwest Houston site is located at 6935 Brittmoore Rd.
The new space will help the company further commercialize its cobalt-free lithium-ion cathode, lithium nickel manganese aluminum oxide (NMA). The technology is game changing for the electrification of the United States, including the rapid adoption of electric vehicles.
Currently, the country is experiencing a supply chain crisis, says Evan Erickson, co-founder and CEO of the company, at the event. Most of the world's cobalt, a material traditionally used in lithium-ion cathodes, is sourced primarily from the Congo and refinement is mostly controlled by China, he explains.
For these reasons, Cathodes are the most expensive component of lithium-ion batteries. But TexPower has a unique technology to solve this supply chain issue, and now with its new labs, is one step closer to commercialization of its materials.
TexPower spun out of the University of Texas at Austin in 2019. The company was co-founded by Erickson with CTO Wangda Li and Board Chairman Arumugam Manthiram, a professor at UT whose lithium-ion battery research fuels the foundation of the company.
"We want to point out how lucky we are — as a company and as scientists," Erickson says at the ribbon cutting event. "It's not common that you see something you work on in academia turn into something that can become commercially successful."
Prior to the newly built labs, TexPower operated out of the University of Houston's Tech Bridge. The company intends to raise additional funding to support its expansion.
According to the company, the new three-ton-per-year pilot line is the first step toward building a manufacturing facility that's capable of producing up to 50 times more the amount of cathode with a goal to impact markets such as defense, power tools, and eVTOL.
CEO Evan Erickson celebrated the new lab space opening last week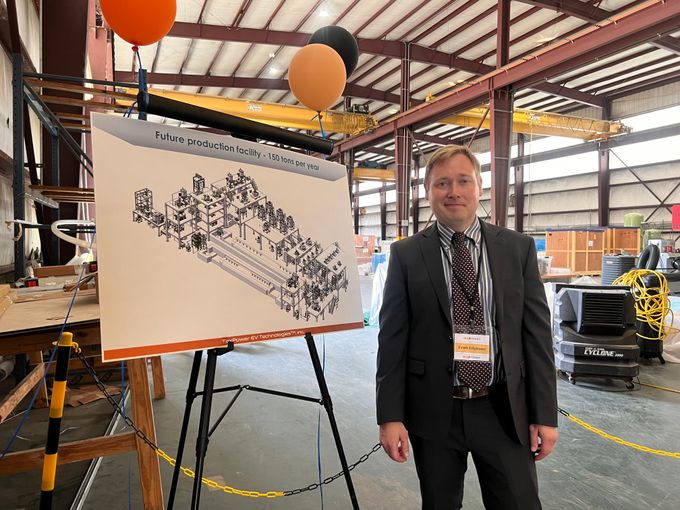 Photo courtesy of TexPower
This article originally ran on InnovationMap.